A Pictorial Guide to Diabetic Foot Examinations

Foot Screening Competency
Screening for the risk of foot ulceration and related complications in people with diabetes can be undertaken by any 'competent' person. Below is a list of professional activities that anyone undertaking foot screening can use as a self-assessment for competency and should identify any gaps in knowledge or experience which will help inform a personalised development plan.
Click each step below to expand for more information:
•  A general knowledge of the nature of diabetes, including its signs and symptoms.
•  Recognises the limits of own knowledge about diabetes
•  Aware of national guidance for the diagnosis and management of diabetes
•  A basic understanding of the psychological impact on the patient and/or carer of having a long-term condition
•  Uses relevant patient record systems and decision support tools.
•  Undertakes protocol-led clinical examinations within the scope of their practice. 
•  Communicates to patients the benefits of good glycaemic control, self care and monitoring to prevent diabetic complications.
•  Refers to, and seeks guidance from, appropriately experienced colleagues when necessary.
•  Constructively supports changes to improve unhealthy patient lifestyles.
•  Utilises available professional networks for support, reflection and learning.
•  Takes responsibility for their own continuing professional development.
  •  Clearly communicates what is involved in the screening process to the patient.
  •  Carries out diabetic foot screening in line with national guidance and/or local protocols.
  •  Assigns an ulcer risk score based on the results of the screening, using relevant decision making tools when available.
  •  Records the screening results on the relevant patient records system/s.
  •  Explains the results of the screening to the patient and/ or carer in an appropriate manner.
  •  Provides up-to-date verbal and written advice relevant to the risk status resulting from foot screening.
  •  Aware of, and appropriately uses, local referral pathways
  •  Understands how the complications of diabetes increase the risk of foot ulceration.
  •  Understands the necessity of urgent referral and treatment in the event of suspected infection, ulceration or critical limb ischaemia.
  •  Understands how the complications of diabetes mean that a wound on the foot must be seen by a suitably skilled colleague with access to a multi disciplinary team as a matter of urgency.
  •  Encourages the patient and/or carer to comply with instructions on the use of pressure-relieving devices for the treatment of active ulceration.
  •  Carries out dressing changes as instructed and within the scope of their practice.

  •  Encourages the patient and/or carer to comply with recommended dressing regimens.
  •  Follows instruction from colleagues to ensure Charcot Neuropathy care plans are carried out, within the scope of their practice.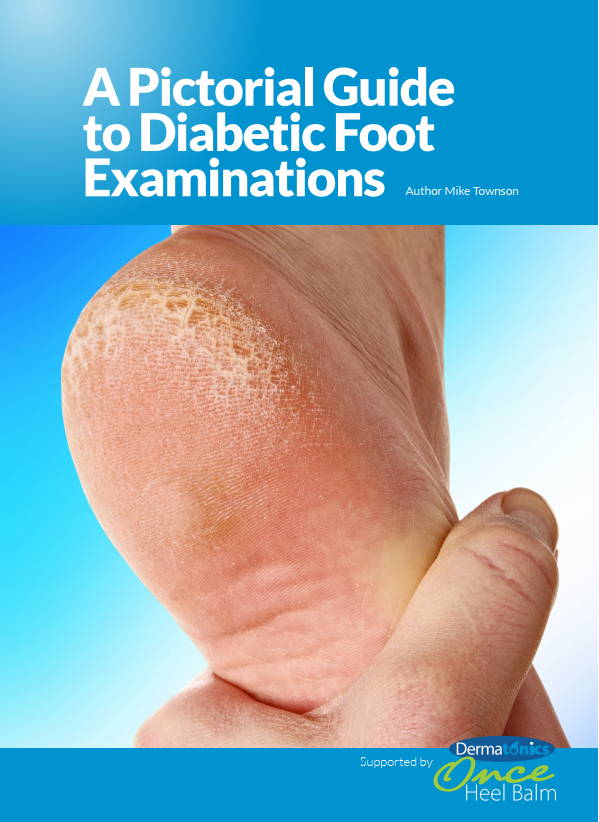 ---
Who is this guide for?
This guide will support practitioners undertaking a foot examination for someone with either Type 1 or Type 2 Diabetes. The national best practice guidance (NICE NG19) states that anyone performing a foot check or examination for the purpose of identifying risk of ulceration should be competent to do so. This guide will be an aide memoir for any health professional who has received competency training.
Why is this guide important?
There are over 135 amputations each week in England (more than 300 amputations a year in Wales) and it is estimated that 80% are likely to be preventable. A foot ulcer precedes most amputations and is associated with significant increases in cardio vascular mortality, depression and substantial reductions in quality of life measures.
All Primary Care practices are required to undertake the 9 Care Processes for Diabetes; the foot examination is one of these. The QOF indicator DM012 requires a report of "The percentage of patients with diabetes, on the practice register, with a record of a foot examination and risk classification: 1) low risk 2) increased/moderate risk 3) high risk or 4) ulcerated foot within the preceding 12 months"
Identifying the risk of foot ulceration early and informing the patient with appropriate advice are essential prevention actions. Making a timely referral into the foot pathway for those at risk will save limbs and lives of those vulnerable to complications and is a professional regulation responsibility.
What does the national guidance say?
NICE guideline NG19 sets out a list of the checks required to be carried out during a foot examination for someone with diabetes. A good foot examination enables accurate risk identification and gives details of the actions that should follow depending on the findings identified. There will be a local foot pathway for referral into the Podiatry led Foot Protection Service (FPS) or the hospital based Multi Disciplinary Foot Services (MDFS). If there is any difficulty finding out this information the local NHS Podiatry Service will be able to help with contacts and pathway details. A conversation is worthwhile to understand the podiatry service contract, which may have some access limitations for foot care.
What risk factors need identification?
If the examination identifies the presence of one of the clinical signs below a moderate risk status should be recorded and appropriate advice given to the patients. If more than one of the clinical signs is identified then high-risk status is recorded. Naturally if a foot ulcer is present then this is classified as an active ulcer.
---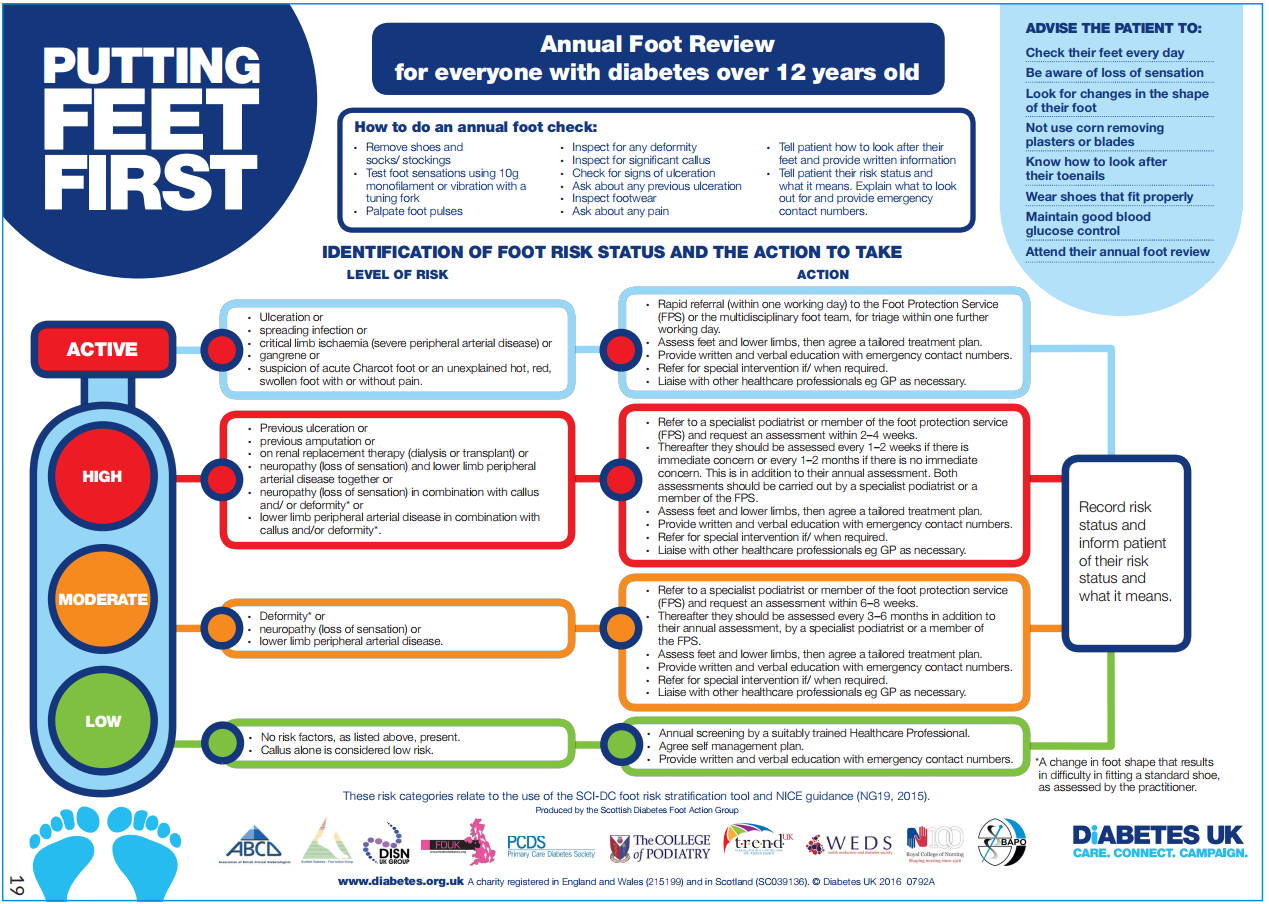 ---
Risk Factors
1. Changes to sensation – Testing for loss of protective pain sensation associated with neuropathy


2. Absence of foot pulses – Testing for peripheral arterial disease associated with limb ischaemia and cardio vascular risk.


3. Deformity – Change in foot shape can predict areas of trauma or changes in foot function.


4. Callus – Most ulcers develop under hard skin and indicate an area of trauma, dry skin is often associated with peripheral neuropathy. Callus is only a reportable risk factor in the presence of one or more of these other factors.


5. Ulceration – Must be under the management of a specialist foot care team, but check for history of ulceration.


6. Infection or Inflammation – The presence of either always requires immediate action.


7. Gangrene – Visible evidence of critical limb ischaemia and must be under acute care management. Indicator of significant cardio vascular disease.


8. Charcot arthropathy – A complex foot condition often leading to the complete collapse of the foot structure and requires early management by hospital MDFS.


9. Renal Replacement Therapy (RRT) – Any patient with diabetes undergoing RRT is at high risk of developing foot complications and must be referred to the MDFS.
---
Carrying out a foot examination

A structured approach to each foot examination will produce a more consistently accurate risk classification and save time.
1. Be prepared.
        a. Ensure you have access to a room which is comfortable for you both so that you can see, feel and examine all areas of their exposed bare feet.
b. You will need a 10gram monofilament.
c. Have a range of foot health information available so that you can provide appropriate advice.
d. Ensure that you are familiar with the local foot pathway contact and referral details in case they are needed.
e. Familiarise yourself with the patients previous foot risk level, previous structured education and advice and their current HbA1c
f.  Is the patient known to be regular smoker?
g. Are there any known language, cultural, physical or mental health issues that may influence communication during the foot examination?
2. Observe
a. Mobilty
b. Size and weight
c. Footwear style
d. Swelling or oedema within legs and feet
e. How easily the patient can remove shoes, hosiery and any dressings that may be present.
3. The examination or foot check
a. Explain to the patient what you are going to do and what will happen at the end of the examination
b. With a good view of both legs below the knee make a visual inspection of the front and back of each limb, paying particular attention to the hard to see areas such as heels and between the toes.
c. The purpose of the foot check is to screen for risk of ulceration so record the presence or absence of any of the visible risk factors such as callus, skin and nail conditions, athletes foot, fungal nails or psoriasis, deformity, pressure points, ulceration, infection or gangrene.


d. Check both foot pulses on each foot by hand.
e. Test for changes to sensation using the monofilament.
4. Risk classification
a. On conclusion of the examination the key risk factors will have been identified. Use a checklist so these can be recorded as being absent or present.


b. Refer to local guidance for referral on to specialist services
c. Where nail and skin conditions are present but sensation and circulation are adequate the patient should be recorded as low current risk and may need help with footcare.

---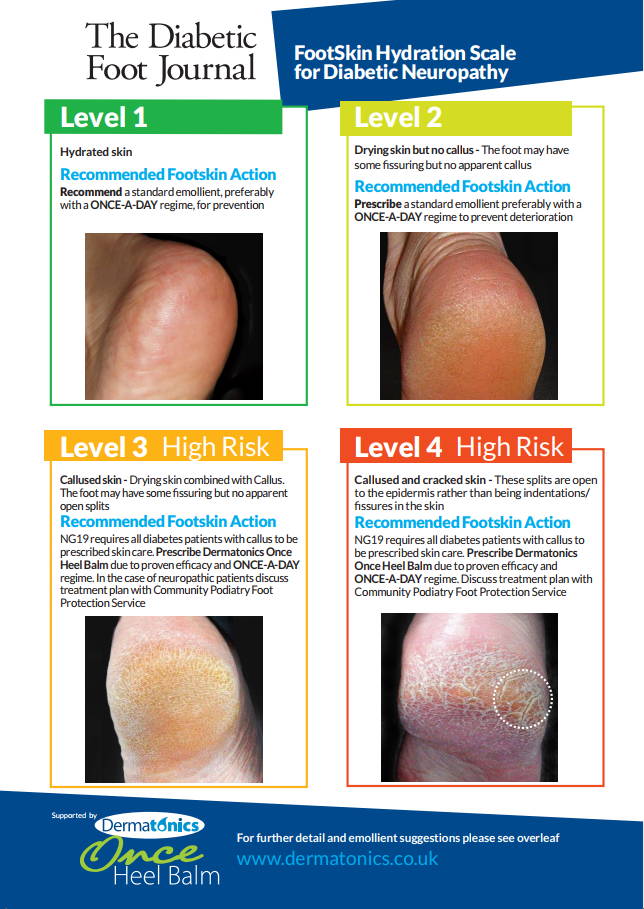 ---

Initial Visual Inspection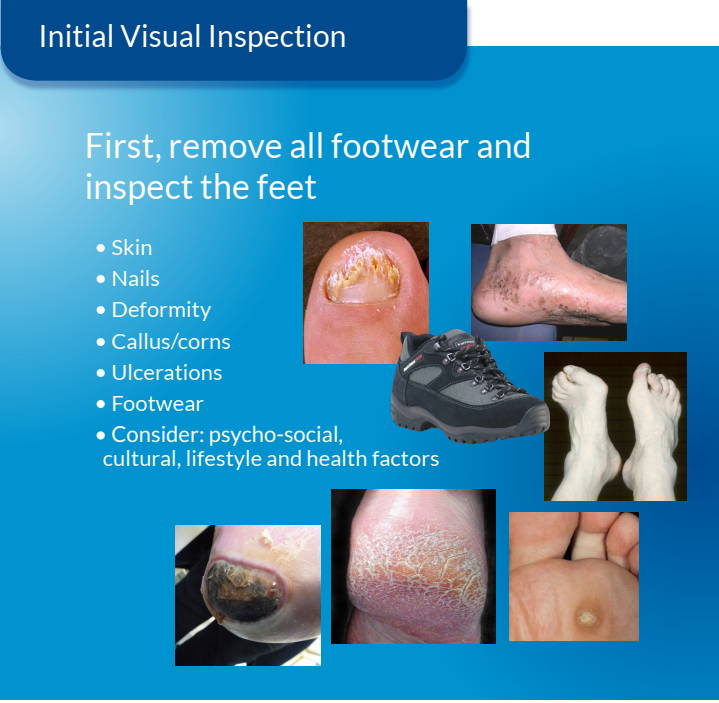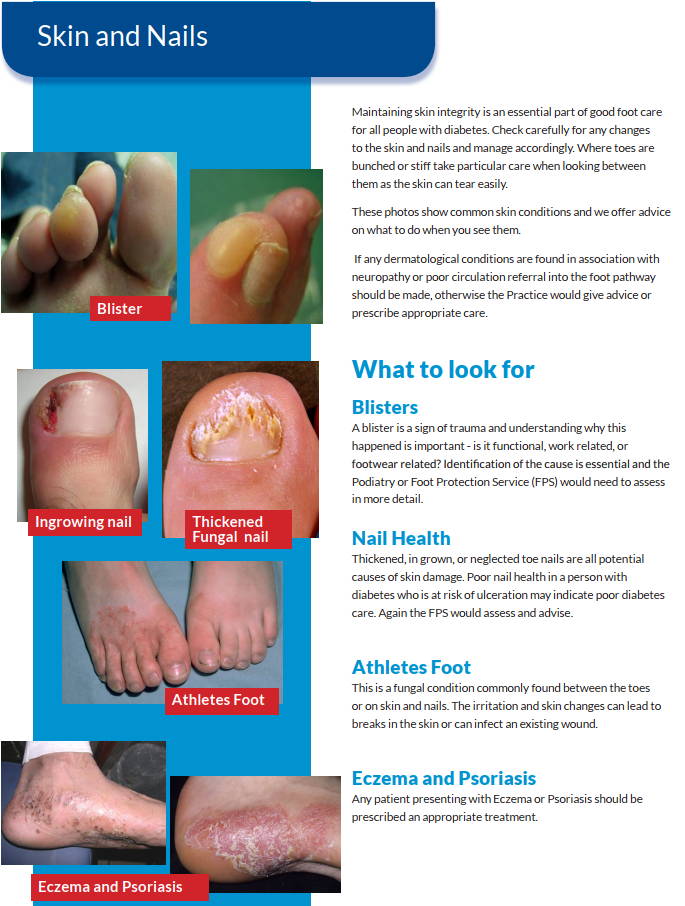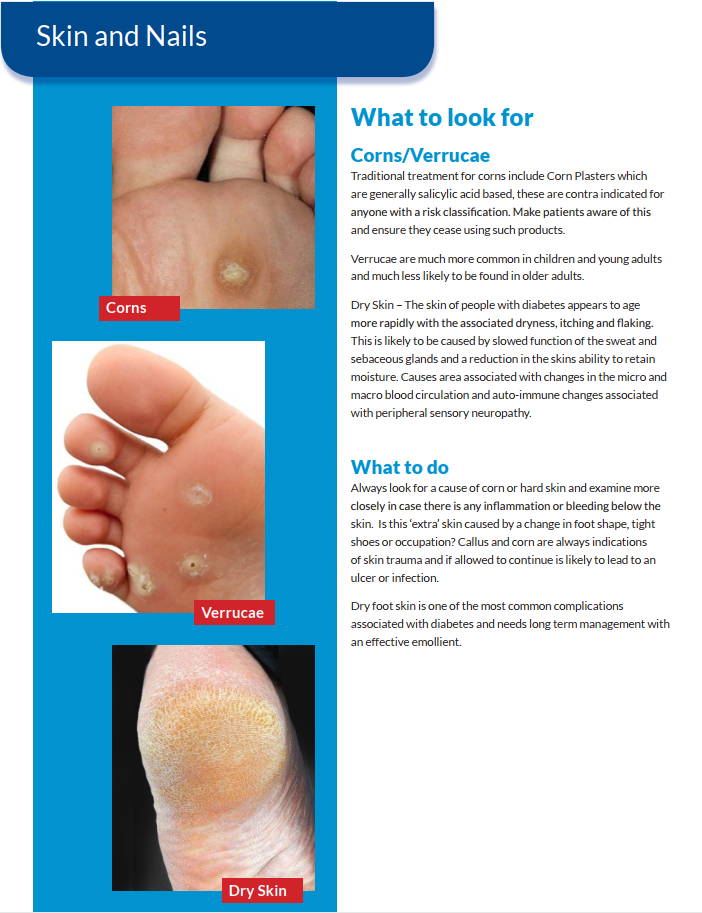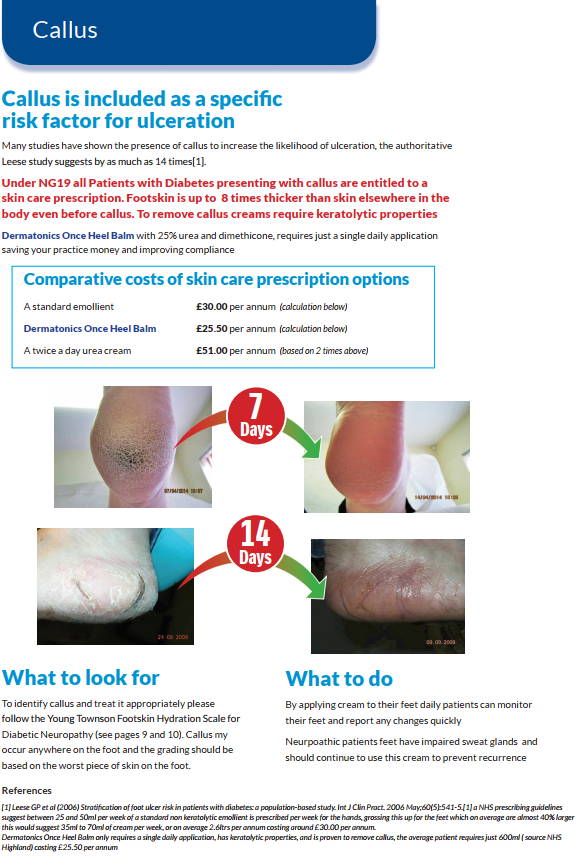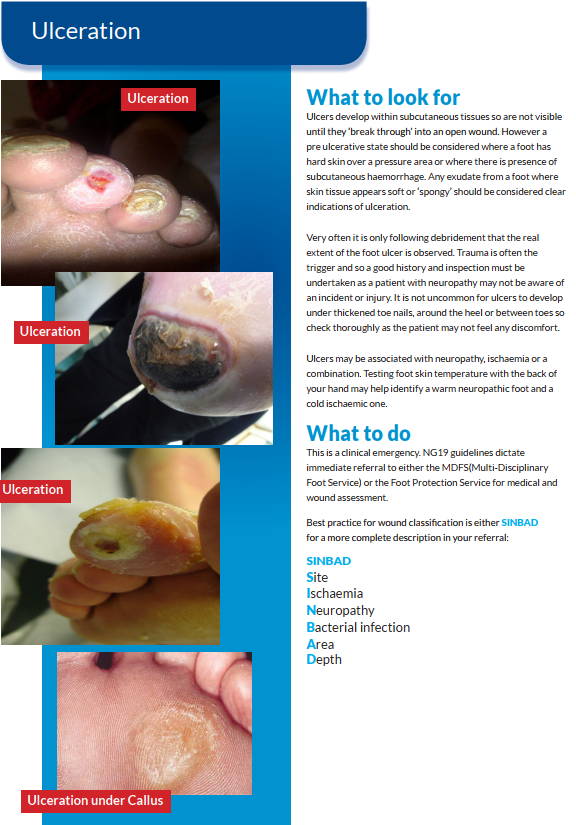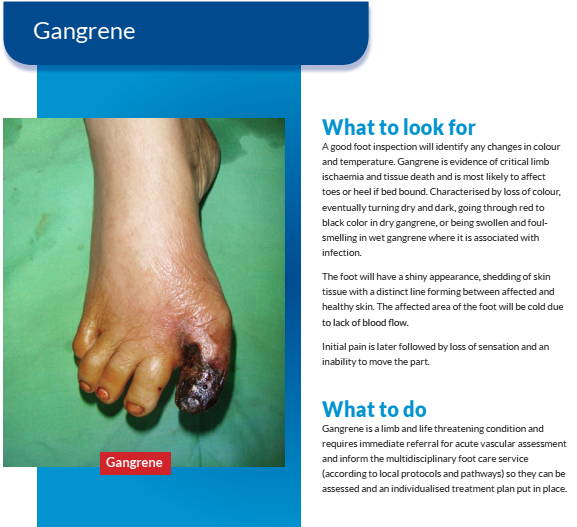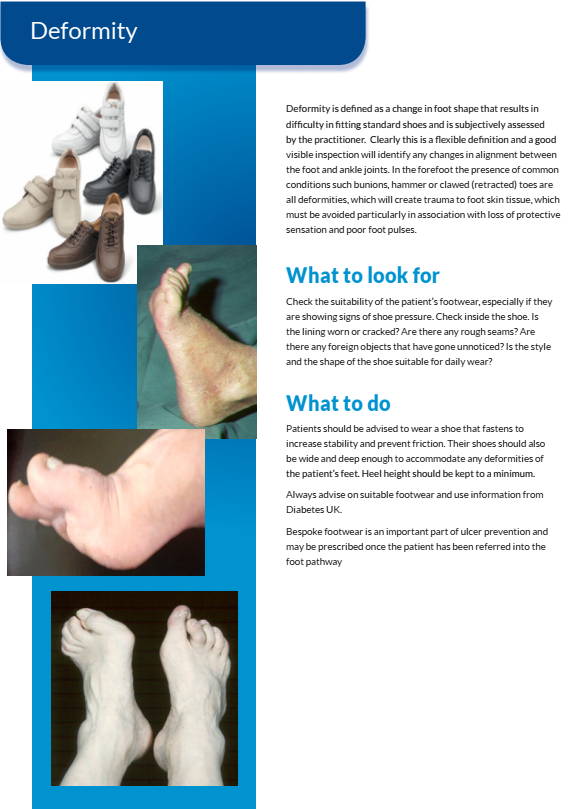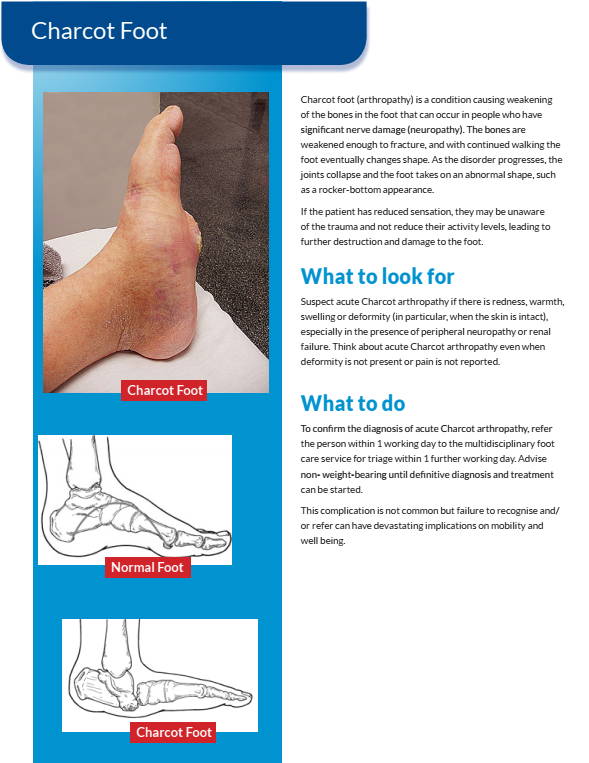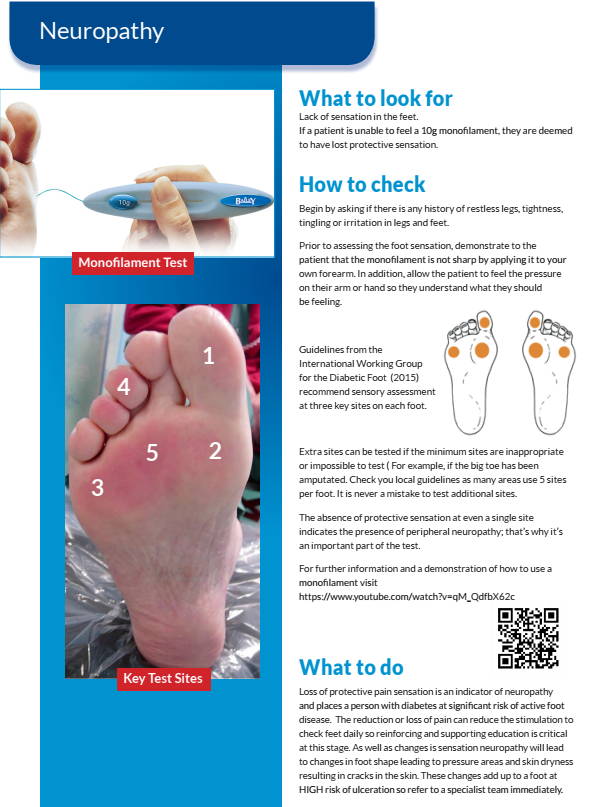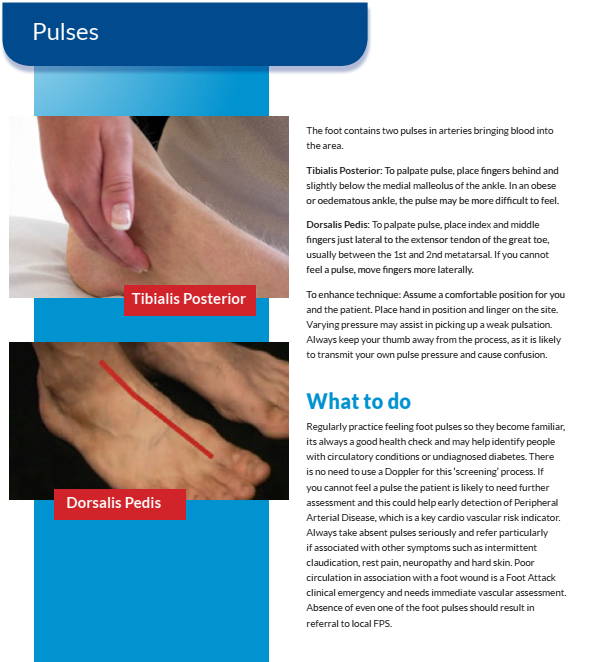 Infection or Inflammation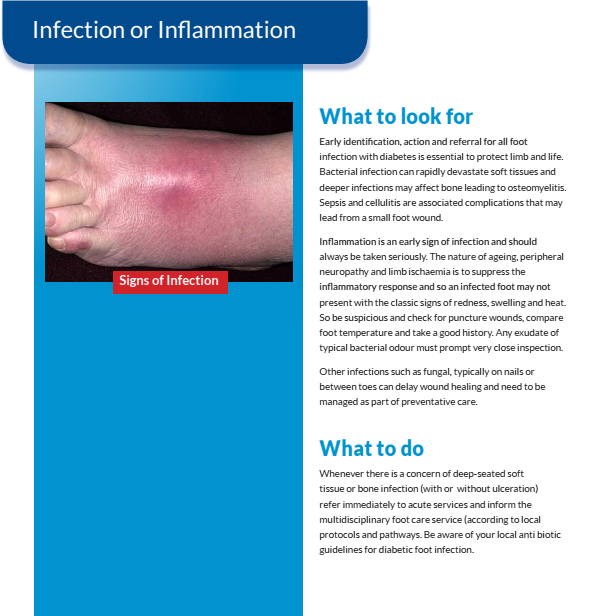 ---